Description
Mini Cloud-Based Smart Home Hub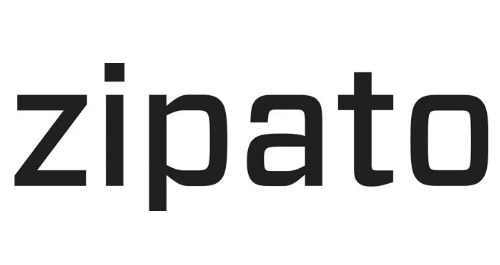 Create a complex (or simple) home automation system without pulling your hair out by using the Zipato Zipamini Z-Wave Home Automation Controller. As a cost-effective alternative to the more robust Zipato Zipabox controller (sold separately), this compact plug-and-play smart home hub is perfect for DIYers. It supports popular wireless communication protocols, including Z-Wave, ONVIF, IP and UPnP, to give you comprehensive control over your home, from anywhere, without the added price for more advanced features. With the Zipamini, every feature you really need is built-in from the get-go!
Manages up 233 zones and thousands of devices
Supports Z-Wave, IP and UPnP wireless devices
Supports most third-party IP cameras via ONVIF
Simple drag and drop rule creation in Zipato web portal
Provides HDMI, USB, and A/V out ports plus SD card slot
Free app for Apple and Android mobile devices
The Zipato Zipamini receives programming information from the Zipato web portal through your existing Internet router, and uses wireless radio (RF) technologies, such as Z-Wave, to communicate with your home control devices. Once programming is sent from the cloud to the Zipamini, settings are stored locally, so an Internet connection is not required to operate connected devices.

While most desired capabilities are built into the Zipamini, ports on the unit do allow customization. Two USB ports provide connections for USB dongles, such as a ZigBee dongle or an Internet backup dongle (3G/4G). Additionally, the Zipamini's HDMI and A/V out ports enable you to deliver audio/video from connected devices (such as an IP camera) to an external display.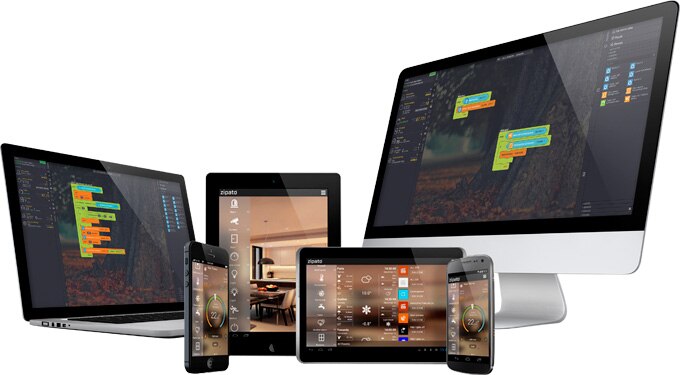 Zipato Web Portal & Smartphone App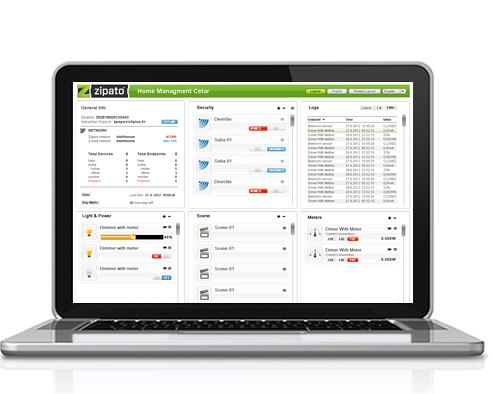 The Zipato Zipamini includes free access to the Zipato web portal, where you will login online to configure your devices, monitor your home's security, and review energy consumption of metered devices. You'll also be able to setup multiple users with different access rights, review home event history, set up email and text alerts, and customize your system by adding additional lights, appliances and devices.
The web portal can be accessed through any web browser, as well as a free smartphone app. The app is available to download for Apple and Android mobile devices, providing convenient remote control for your home.
DIY Customization with Zipato Rule Creator
Through the web portal, you can access the Zipato Rule Creator, an online intuitive graphical programming tool that lets you add devices or change settings whenever you want from anywhere in the world. Just log into your account to make changes. No software installation or programming skills are required!
The Zipato Rule Creator allows you to create "rules" for your connected devices. Rules trigger events when other events occur. You can easily develop rules yourself with the Rule Creator's comprehensive library of drag and drop micro blocks (control functions), which can be mixed, matched and stacked to create simple or complex control sequences. Events can be triggered by: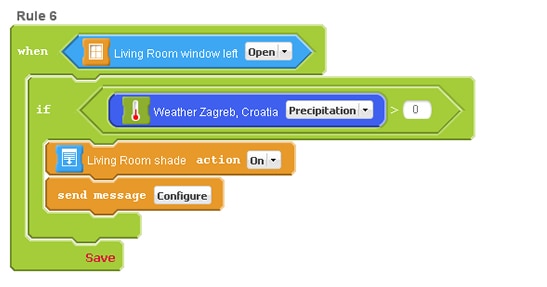 Conditions (many)
Status change of any device
Absolute time
Sunrise/sunset (with offset)
By email received
Security panel events
By matched infrared codes
Recurring at regular second/minute intervals
Event actions
Versatile Installation Options
The Zipamini plugs into any standard power outlet with the included power adapter, and connects to your Internet router with an Ethernet cable. No mounting is required, as the Zipamini is designed to sit neatly on a tabletop.
Optional Monitoring Service
As a free service from Zipato, you can receive automatic system monitoring and alerts from the Zipato Home Monitoring Servers. Alerts can be customized with the Zipato Rule Creator.
Contents
Zipamini Controller
Power Adapter, 5V/2A
User Guide
Note: Requires a broadband Internet router and active Internet service.
Security & Automation For Every Home
Zipato is a cloud-based home automation and security system designed to make homes safe, comfortable and energy efficient. Compatible with a variety of wired and wireless automation protocols, Zipato supports flexible installation, customization, and DIY expandability. Control Zipato locally or over the Internet for complete home control and peace of mind!