Description
All-In-One Smart Home Hub
With an impressive plethora of built-in features, the first-of-its-kind Zipato ZipaTile Home Automation Controller (Z-Wave + Zigbee) is so much more than a smart home hub. It's a complete starter system in a single wall-mount tablet. From its built-in sensors and touchscreen keypad to the integrated IP camera, speaker, and microphone, the ZipaTile offers the ultimate starting point for building out your system. And best of all, it serves as the command center for all of the most popular communications protocols, including Z-Wave, Zigbee, Wi-Fi, and Bluetooth.
The ZipaTile is primarily a wall-mount Android-powered home automation controller (v5 Lollipop) that combines an 8-inch touchscreen tablet (800 x 1280) with built-in communication radios and sensors for Motion, Shock, Sound, Light, Temperature, and Humidity. It also comes with an external temperature sensor, and provides a dual dry output and dry input for wiring in other external devices.
Complete Feature List
Wall-Mount Tablet with Wi-Fi
Touch keypad with 6 scene buttons
Web browser, email, Skype
Multimedia/home theater control
Sticky notes
News stream
Photo frame
Weather forecast
Room temperature display
Room humidity display
Room illuminance display
Home Automation Controller
Remote control with smartphone
Online rule creator
Scene manager
Room manager
Z-Wave, Zigbee, Nest, Philips Hue, Sonos, Bluetooth, Homekit…
Security System & Alarm
Remote control with smartphone
24/7 central monitoring
Photo and video messages
Motion sensor
Noise sensor
Shock sensor
Multi-sound alarm siren
Elder Care
Motion sensor
Noise detector
Automatic check calls
Panic button with auto call
Sound reminders
Video and voice calls
Thermostat
Remote control with smartphone
Air condition control
Gas/floor heating control
Temperature meter
Exterior temperature meter
IP Camera
Remote control with smartphone
2 megapixels for high-resolution
Live video stream (H.264)
Motion-activated and scheduled recordings
Intercom
Remote control with smartphone
Video calls
Conference calls
Door phone control
SIP server client
Dual-network IP connectivity
How It Works
The Zipato ZipaTile receives programming information from the Zipato web portal through your existing Internet router, and uses wireless technologies, such as Z-Wave or Bluetooth, to communicate with other devices. Once programming is sent from the cloud to the ZipaTile, settings are stored locally, so an Internet connection is not required to control connected devices.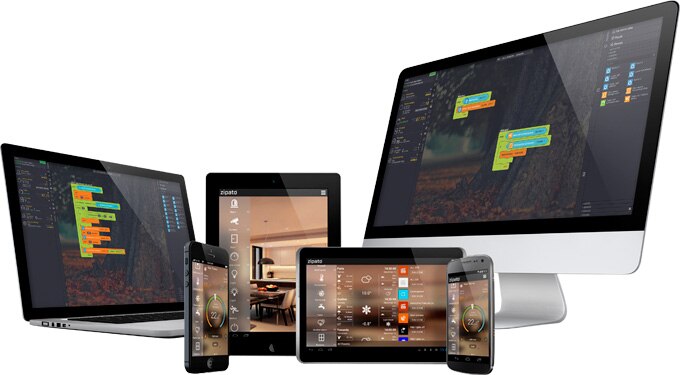 Zipato Web Portal & Smartphone App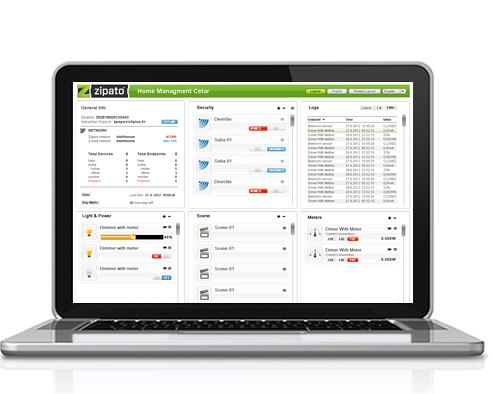 The Zipato ZipaTile includes free access to the Zipato web portal, where you will log in online to configure your devices, monitor your home's security, and review energy consumption of metered devices. You'll also be able to set up multiple users with different access rights, review home event history, set up email and text alerts, and customize your system by adding devices.
The web portal can be accessed through any web browser, as well as a free smartphone app. The app is available to download for Apple and Android mobile devices, providing convenient remote control for your home.
DIY Customization with Zipato Rule Creator
Through the web portal, you can access the Zipato Rule Creator, an online intuitive graphical programming tool that lets you add devices or change settings whenever you want from anywhere in the world. Just log into your account to make changes. No software installation or programming skills are required!
The Zipato Rule Creator allows you to create "rules" for your connected devices. Rules trigger events when other events occur. You can easily develop rules yourself with the Rule Creator's comprehensive library of drag and drop micro blocks (control functions), which can be mixed, matched and stacked to create simple or complex control sequences. Events can be triggered by: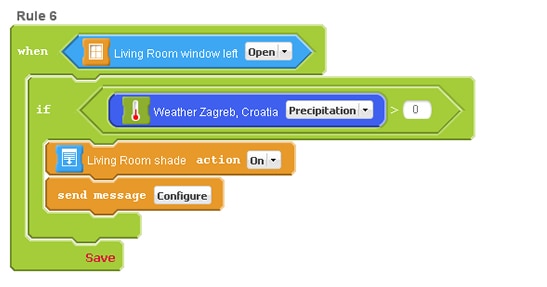 Conditions (many)
Status change of any device
Absolute time
Sunrise/sunset (with offset)
By email received
Security panel events
By matched infrared codes
Recurring at regular second/minute intervals
Event actions
Optional Monitoring Service
As a free service from Zipato, you can receive automatic system monitoring and alerts from the Zipato Home Monitoring Servers. Alerts can be customized with the Zipato Rule Creator.
Installation Details
The ZipaTile is designed either to mount to a wall with the included hardware, or to sit in the included tabletop stand. Ideally, it should be placed in a central location where you can use the touchscreen display to monitor your home environment, communicate through the video intercom, and conveniently adjust settings.
The unit can be powered in two different ways, either with the included plug-in power supply or with a wired connection through the wall.
Contents
ZipaTile
Power Supply (5V/1.5A)
Table Stand
Wall Holder
Wall Socket Adapter
Mounting Screws
NOTE: Requires a broadband Internet router and active Internet service.
Security & Automation For Every Home
Zipato is a cloud-based home automation and security system designed to make homes safe, comfortable and energy efficient. Compatible with a variety of wired and wireless automation protocols, Zipato supports flexible installation, customization, and DIY expandability. Control Zipato locally or over the Internet for complete home control and peace of mind!
Videos